Sub Master Detector
Sub Master Detector
For the purpose of monitoring a earthquake the master is connected via data lines to sub master. The master scans all connected sub masters cyclically and decides on triggering of an alarm of all earthquake detectors. Maximum 15 sub masters can be connected redundantly to a master. The system status is indicated a visually by LED's for operation, failure and alarm.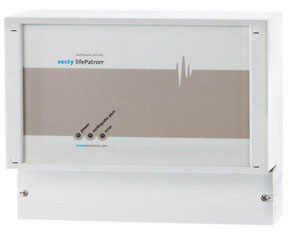 Specifications & Features:
Earliest possible earthquake onsite early warning through use of state of art electronic sensors (triaxial) and analytical methods.
| | |
| --- | --- |
| Measuring head: | 3 x 2 axis sensors- every axis is supervised by two sensors elements all the time |
| Operating Range: | Dc-40Hz |
| Sensitivity: | 1V/g ±4% |
| Non linearity: | < 2,5% |
| Cross Sensitivity: | < 3% |
| Noise: | ~0.01m/s2 |
| Measurement Range: | ± 1,7g |
| Frequency: | 50-60 HZ |
| Battery Weight: | 0.6kg |
| Battery Backup: | 6-8 hrs |
| Complete weight: | 2.5kg |
The axis inaccuracy of the sensor is < approximate 3o


Successfully scientifically supported and tested


Communication between all system element via data – CAT7


Independent battery emergency power supply of the system at blackout


Production according to highest quality standards DIN EN ISO 9001: 2008
Equipment fulfills the following norms and guidelines
Electromagnetic compatibility


Unloading of static electricity


Interference resistant of high frequency fields


Burst interference resistant


Limiting values for radio interference


Low voltage recommendation


Generic standard resistant (industry area)


Generic standard disturbing emission (living area)


Interference resistant against induced fields on power and data lines


Gas automatic shut off systems- reacting to seismic moments